Ten years ago, "Baltic Sotheby's International Realty": real estate business franchise of the world-famous brand Sotheby's International Realty, started its operation in Latvia. Over the course of these years, the company has managed to achieve the leading position in the premium real estate market niche in the Baltic states and become the first choice of clients for selling or buying such real estate.
Also in the future good growth prospects are expected for the premium real estate segment, and "Baltic Sotheby's International Realty" wants to grow also in terms of the professional service offer, which would allow achieving even better financial results and also even broader recognition and a higher level of client satisfaction. 
The idea to attract an international brand emerged in 2009 — under difficult conditions when the world suffered a financial crisis. The founders of "Baltic Sotheby's International Realty" Vestards Rozenbergs and Ilze Mazurenko had already accumulated experience in working with new projects and high-value — premium — real estate.
"When the global financial crisis started, we realised: to prevent stagnation, we need something completely new. The choice fell in favour of the premium real estate segment on a basis of the existing experience and the aim to work professionally in a specific business niche: to follow the segmentation path, gaining our own, certain — leader's — position on the market. Another aspect was the desire to grow; therefore, Sotheby's International Realty brand was attracted," the foundation reasons are emphasised by Vestards Rozenbergs, owner and the Chairman of the Board of "Baltic Sotheby's International Realty".
Already from the moment of the company foundation it was clear that the business will be carried out in the Baltic states, and Sotheby's International Realty franchise company was addressed with the following desire: to be represented in all three Baltic states. Consequently, in 2020, one year after the climax of the global financial crisis, "Baltic Sotheby's International Realty" was established, the company's office in Tallinn (Estonia) was opened in 2011, and one year later – in Vilnius (Lithuania).
"Our accomplishments have proved that when initiating new and right things in the moments of crisis, it leads to long-term success! The choice of this brand has proved itself well over the course of these ten years, and we are doing well, because, if clients wish to sell very expensive, luxury houses, apartments, rural properties or commercial properties, they usually address us immediately. We are the first choice in such cases. This is also confirmed by numbers. The average annual financial growth of the company over these ten years has been close to 40 %. The total value of properties sold by us has reached 158 million euros, and, currently, our portfolio contains 886 premium properties with the total value of more than half a billion euros," states Ilze Mazurenko, the Member of the Board of "Baltic Sotheby's International Realty".
Quality mark of a strong brand
Being a part of Sotheby's International Realty — an international real estate agency network — "Baltic Sotheby's International Realty" has huge advantages: greater international support, access to the global market, as well as the possibility to bring in to the Baltic market the qualities of Sotheby's International Realty brand: luxury, sophistication, quality, sustainable values and professionalism, state implementors of the company's idea.
Before starting representation of Sotheby's International Realty brand in the Baltic states, for many in this region the name of Sotheby's associated only with the world-famous auction house — one of the most recognised and oldest business brands in the world. Since its establishment in 1744 in London until nowadays, it has become well-known for its main area of activity — auctions of the best works of art in the world. The brand has become a synonym for sophistication, luxury, quality and professionalism. Clients of the auction house increasingly more often expressed a desire to acquire also refined house properties, where to exhibit the acquired works of art; as a result, alongside sales of works of art, the famous auction house created an international real estate agency network "Sotheby's International Realty" in 1976, which continues the traditions of the brand. Since 2005, these agencies operate worldwide following the franchise principle and members of the agency network gain an opportunity to exclusively represent Sotheby's International Realty brand on a respective market. The rights of representation of this world-famous brand are granted only to long and carefully assessed real estate companies and individual brokers that comply with strict selection requirements, among them — high reputation, quality, and professionalism. Sotheby's International Realty brand is represented in the area of real estates by 1,000 offices in 70 countries, involving more than 23,000 property sales professionals. Last year, this brand reached USD 114 billion global sales volume in the area of real estate.  Currently, "Baltic Sotheby's International Realty" team is represented in the Baltic states by 40 property sales professionals.
"The 10-year operation of our company is a very short period of time, compared to the history of Sotheby's International Realty brand on a global scale. Whereas, if we are looking from the point of view of Latvia's second free state, this period already comprises one-third of the period of independence of Latvia! So, we can say that it is a considerable experience for Latvia's conditions," admits Vestards Rozenbergs.  Ilze Mazurenko adds: "Here, in Latvia, we do not have such experience as elsewhere in the world with family businesses, which are transferred from generation to generation; therefore, 10 years in business in Latvia — it's not much. However, it's not a short time either."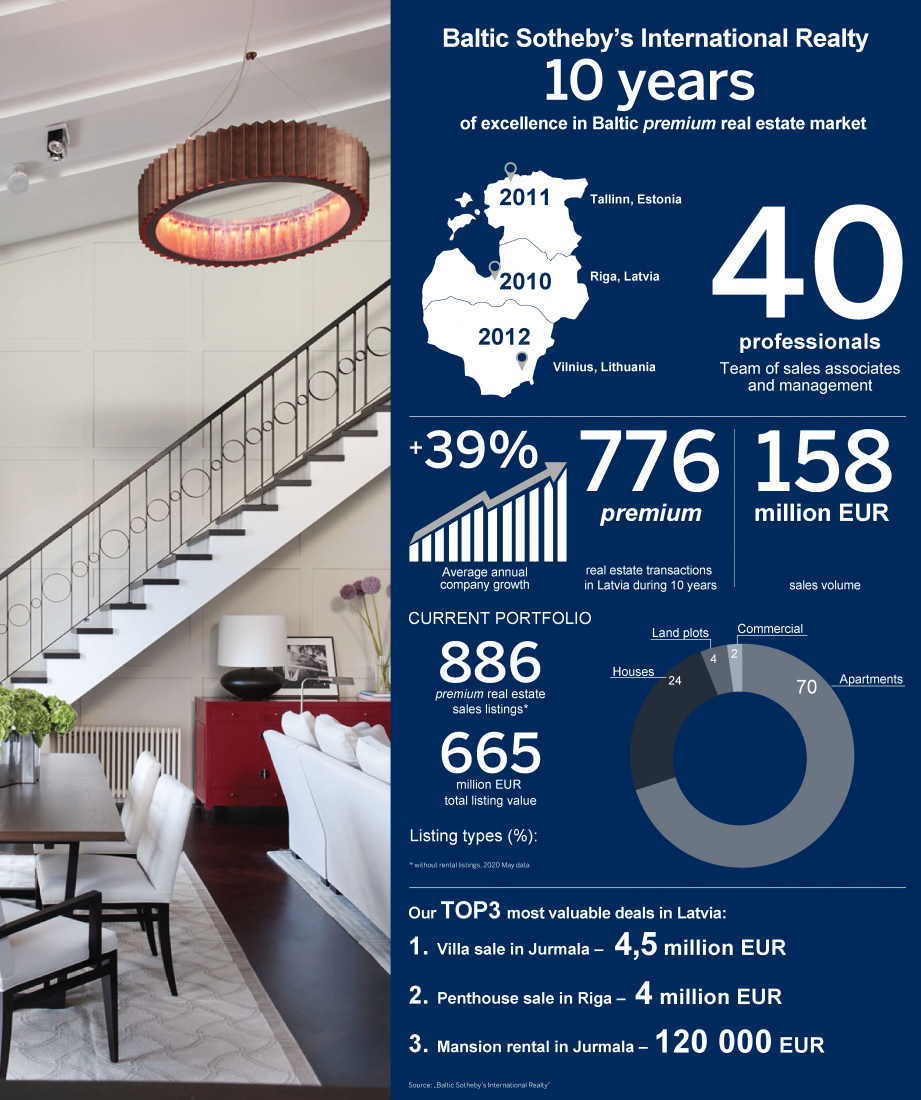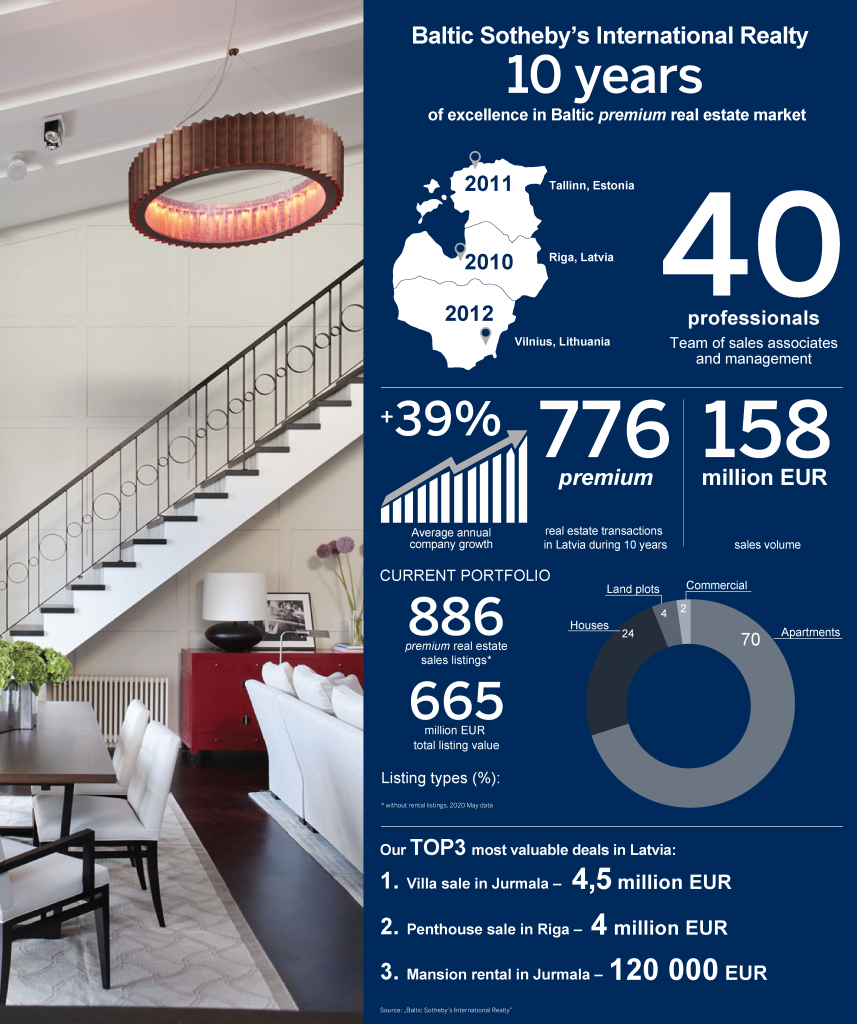 Sotheby's International Realty brand provides recognition, especially among foreign clients. Many of the premium real estate segment clients perceive this brand on an emotional level.  They know the origin of Sotheby's International Realty brand, which brings certain associations: profoundness, sophisticated, quality, stable, recognizable, also prestigious, high-valued. Sotheby's International Realty brand "speaks" for itself, and it serves as a certain type of recommendation and quality mark. It also helps to represent properties available in Latvia and in neighbouring countries on a broader scale. Within the framework of this exclusive cooperation, it is possible to ensure to clients representation and also publicity on such a scale as can be ensured only by "Sotheby's International Realty", because it is the world's leading premium-class brand. "This means that Sotheby's International Realty name allows destroying all borders globally, and together with this brand we can make our properties accessible to the entire world and vice versa — the world is accessible to us," states V. Rozenbergs.
Baltic states: markets with different dynamics
Despite the fact that we represent the same region and have a relatively small market, the real estate market has differed and has had different development cyclicality in each Baltic state over the course of these ten years. Latvian market can be considered the most dynamic of all three Baltic states; moreover, not only in the positive meaning of this word but also in terms of volatility.
"We have been the most dynamic and the most volatile. I would like to call our market enthusiastic, and it is hard to explain, why it has been so because neither Lithuanian market nor Estonian market has not been exposed to such fluctuations as on Latvian real estate market. As soon as the situation improves in Latvia, property prices grow rapidly. Maybe it is a desire to gain profit faster, stand out? As soon as any global fluctuations occur, our market is first to react," states
V. Rozenbergs.
"Latvian premium market is very dynamic indeed, and differences among all three Baltic states are really observable. Our neighbouring countries have never had such a large proportion of non-resident clients as here in Latvia, although Finns comprise a significant portion of clients in Estonia, and Belarusians — in Lithuania. However, they have always had a self-sufficient, quite strong local market, also the market of new projects has been much more active, and they have had better, more accessible bank financing," adds I. Mazurenko.
Over the course of the last ten years, the following cyclicity has been observed on Latvian premium property market: after stagnation that was caused by the financial crisis, temporary residence permits (TRP) programme was introduced, which allowed the real estate market, incl. the premium property segment, to develop slowly. This was a cautious phase of development of the premium property market, which was followed by the period from 2012 to 2014, when the market developed rapidly. In 2014, global changes started: the crisis in relations between Ukraine and Russia, international combating of money laundering and terrorist financing, setting new financing conditions, and change in the attitude of banks, as well as changes in TRP conditions in Latvia. This resulted in a situation, where recession could be observed again in the premium segment in 2015, which was followed by stagnation in 2016 and the premium market recovery trend starting from 2017. This year, 2020, already showed positive and dynamic results: the number of transactions had increased. However, this was quantitative, not qualitative market growth, i.e., the number of premium transactions was higher, but with lower prices. This was caused both by the new world order (financial supervision, bank crediting policy etc.), and also the still present consequences of the bank sector turmoil (the case of ABLV bank) of 2018, which still affect the real estate market.
Also, buyers of premium properties and their proportion have changed, keeping up with the economic and political situation, and various support programmes etc.  Once the majority of foreign clients, especially from the Eastern neighbouring countries, is now replaced by Western European foreigners, and the market of local buyer continues to strengthen. The Latvian buyers take their time, monitor the market, waiting when it will be "friendly" to them, and selection criteria for premium properties have become much more detailed. People, who have accumulated savings, allocate them for ensuring the stability of their life. Knowing the return on deposits and the unclear banking sector, people better choose to invest in high-value properties that ensure stability. It may be said that it is searching for value: the coincidence of the right values and the right time.
During these 10 years, the deficit of premium properties has not been observed, because our market is not so big, and projects of premium properties are developed actively enough. Rather, we should speak about the conformity of prices to the level of premium properties and bank financing. We, in Latvia, are in the last place among the Baltic states in terms of bank financing, and it is one of the reasons, why we can't speak about a breakthrough of the real estate market, admit managers of "Baltic Sotheby's International Realty".
With a perspective view of the future
In the current situation — during the virus pandemic — scenarios for the development of the situation with the premium property market can be different. "However, there have always been and will be clients who will want to invest their money in qualitative and high-value real estate, because it represents stability and this market is well understood. The impact of crises is more visible in other segments of property, whereas the premium segment is more stable, and it has lower price fluctuations than in other segments under crisis conditions because the value and quality assessment is adequate. At the moment, I am not expecting on the real estate market similar fluctuations as experienced before, because back then the circumstances of occurrence of the crisis were completely different. Back then, prices were artificially inflated, whereas now they are adequate to the actual market situation," says V. Rozenbergs.
"Baltic Sotheby's International Realty" expect that the forthcoming period of activity of the company will be a period of growth because certain cyclicity is observed on the market, huge experience has been already accumulated, we have elaborations, contacts and also the team is created in a way that the following decade could be operated under the label of growth. The company would like to see qualitative growth on the premium property market — more professional "players" and stricter market segmentation, and also want to extend in terms of the team, because a good future perspective is seen on the premium property segment.
"We would like to strengthen the new services that we are currently introducing and expand them, for example, services of property concierge or property caretaker, or property management services. We also wish to grow more in terms of professional service offers and provide other new services, which would allow achieving better financial results, broader recognition and a higher level of client satisfaction," indicates V. Rozenbergs.
I. Mazurenko adds: "We hope that there will be also more clarity from the economic point of view so that people could feel safe and confident about their future, as uncertainty is most concerning and discourages making investments.  I wish that we could serve all clients that operate in the premium property segment."
Resource: "Baltic Sotheby's International Realty": under the quality mark of the global brand Sotheby's International Realty already for 10 years