In a festive ceremony at the Latvian Real Estate Association (LANĪDA) on 14 December, seven Baltic Sotheby`s International Realty agents received real estate agents' certificates confirming their exceptional competence and professionalism. With these certificates, all Baltic Sotheby`s International Realty realtors are qualified to represent a level of real estate mediation services consistent with the highest standards in Latvia and Europe.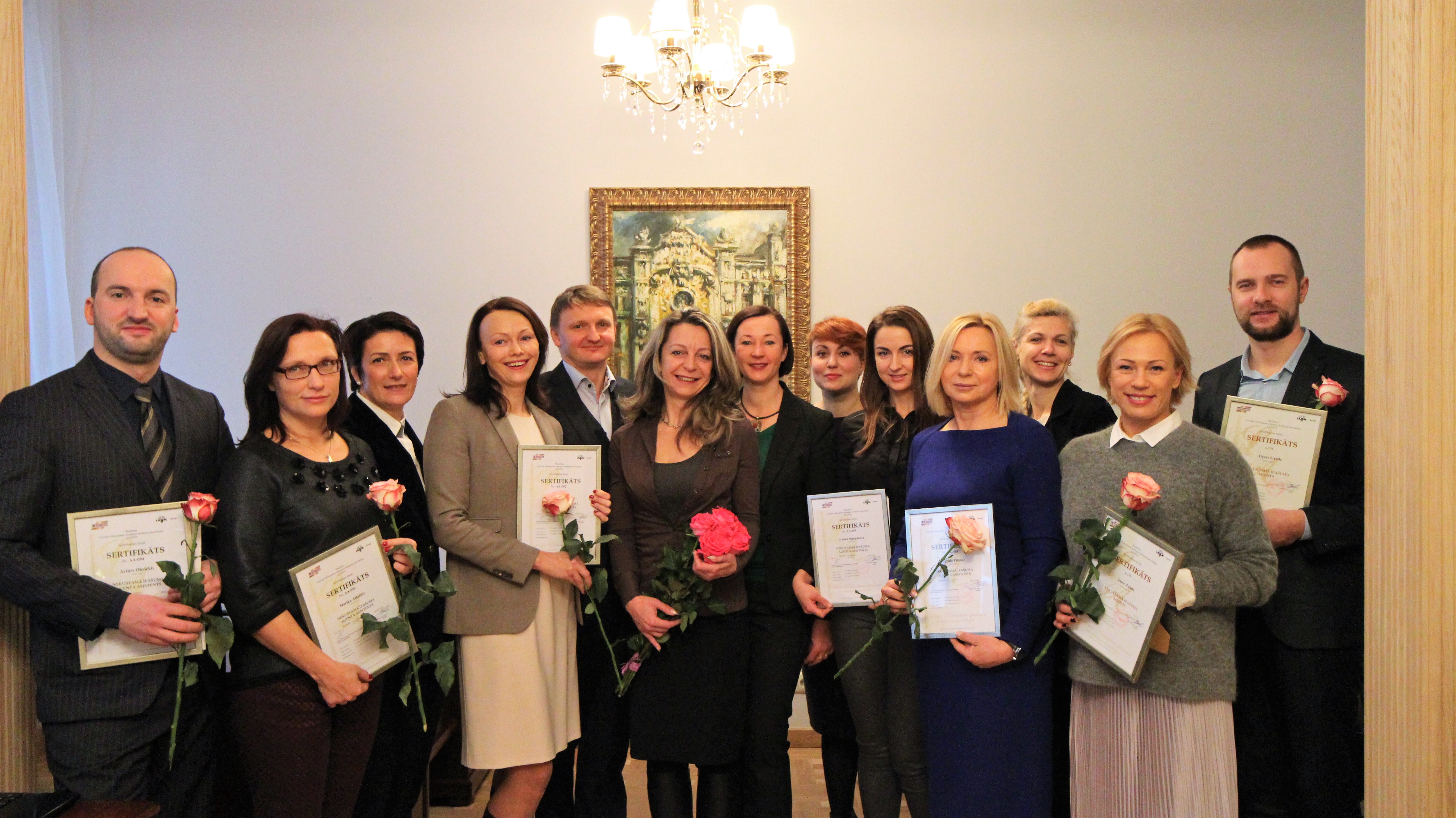 After finishing a professional qualification training course and passing a qualification exam, the following agents at Baltic Sotheby`s International Realty received their real estate agent and agent's assistant certificates from LANĪDA: Aigars Strods, Marika Alksnīte, Līga Āboliņa, Ingrīda Pīlādze, Inese Zaķīte, Evita Pudane, and Evija Zālīte.
"We decided to certify all of our real estate agents because this is a good way to complement our internal labour standards and professional guidelines, confirming the professional competence of our agents in line with Latvian and European standards. It also allows our agents to continue improving their knowledge independently. For our clients, this is further proof that Baltic Sotheby`s International Realty continues to provide high-quality services in real estate representation," comments Vestards Rozenbergs, Baltic Sotheby`s International Realty owner and chairman of the board.
"It is no secret that, unfortunately, the real estate market has a relatively large so-called "grey" sector where many work without adequate knowledge or a professionally acclaimed document, which puts potential clients at risk and competes unfairly with conscientious businesses. For long-standing companies on the Latvian market, their certifying employees is one way to signal to clients that they are not only socially responsible but also mindful of the lifelong learning and professional acumen of their representatives. To potential clients, it shows that duly certified estate agents are not only trustworthy but also knowledgeable business partners. This is a good signal that encourages other estate companies and individual entrepreneurs to decide on proving their qualifications," adds Irina Sjarki, LANĪDA executive director.

For reference:
Baltic Sotheby`s International Realty is the Baltic franchisee of Sotheby's International Realty, a leading luxury estate brand established in 1976 by the famous auction house. Baltic Sotheby`s International Realty got the right to represent the Sotheby's brand exclusively within the Baltic States in April 2010, when it opened its head office in Riga. The three Baltic offices are represented by 25 professionals. Leveraging the franchise, Baltic Sotheby`s International Realty cooperates with the international network of Sotheby's International Realty agencies, guaranteeing the best, most diverse selection of exceptional properties in the Baltics and throughout the world. The Baltic Sotheby`s International Realty website http://balticsothebysrealty.com hosts a large database of real properties, as well as general information about the Baltic real estate market, legal basics, and the range of various services it offers.
The LANĪDA Certification Bureau is accredited by the Latvian National Bureau of Accreditation. Since 22 February 2011, the Certification Bureau is competent to certify real estate agents and real estate agents' assistants. In accordance with Latvian and European standard requirements, the certification procedures and requirements established by LANĪDA are design to confirm on an ongoing basis that a certified estate agent or certified agent's assistant meets essential criteria: that they observe local as well as international standards in their professional activities; that they possess a high degree of training and knowledge; that they commit to life-long learning; that they adhere to principles of professional ethics.
Resource: CERTIFIED BALTIC SOTHEBY'S INTERNATIONAL REALTY AGENTS WILL IMPROVE REALTY SERVICES EVEN MORE