Blaumaņa residence fulfils your dream about living space in the centre of Riga – in a beautiful, renovated building created in an eclectic style, from which you can quickly and conveniently reach any destination by foot.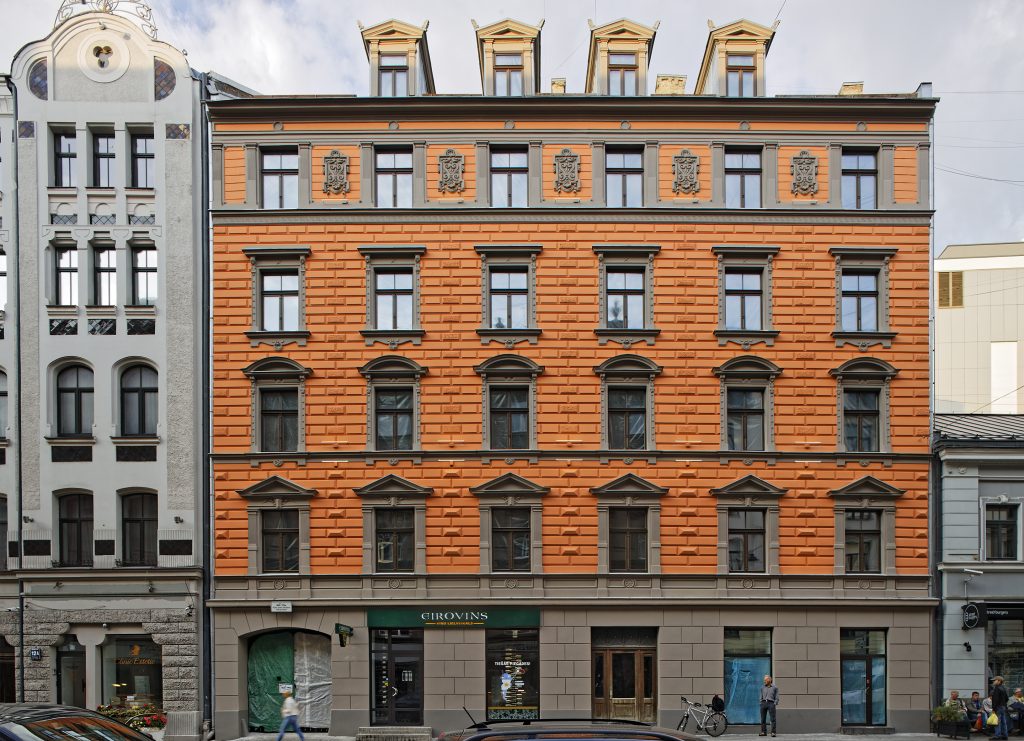 It is a dream not only of many Riga inhabitants, but also of guests of Riga to live in the very centre, which is a serene harbour and at the same time an active place for business and cultural life.
The beautiful house in Riga, at Blaumana Street 12, located near the Galleria Riga shopping mall, was built in 1897 according to a design of architect Karl Johann Felsko and is considered to be one of the best works of this leading architect of the 19th century. The buildings designed by him are notable for their detailed façade elements – cornices, banisters and volutes made in traditional style. The developer has creatively improved it by choosing a bright red and orange colour for the façade, which already delights the eye of by-passers, but the first demo apartments will open their doors to visitors in the middle of November. Although the building is intended to be commissioned in November 2019, several apartments have already been booked.
Compact and modern living space
Since demand for smaller, more compact apartments on the market has grown, we offer apartments starting from 35 square metres. There are 56 apartments, mainly compact two- or three-room apartments with prices starting from 2300 euros per square metre, and in the façade building – starting from 2400 euros per square metre. Interior design will fit the historical context of the building: minimalism, laconic shapes, neutral colours and natural textures. "People are ready to pay more, yet they want the house to be renovated, have a good location, appropriate area, and starting from the second floor – this offer is very limited. The renovated building is inherent not only of historical charm, but it is also perfectly equipped with modern solutions – central heating system with heat meters, new utilities, an elevator," Aigars Strods, Sales Associate of Baltic Sotheby's International Realty emphasises advantages of the building.
With the spirit of writer Blaumanis
The first floor of the façade building will host commercial spaces, while apartments will be offered from the second floor. The façade building will have something special – two mansard apartments. The building has a large and light inner yard. There will be no parking spaces to make use its advantages for leisure only. There will be benches, the green zone and bike racks in the yard. As the building is U-shaped, it has three entrances, each of building parts has its own name – "History", "Literature" and "Architecture", which ideologically add up to the historical context of the building and Blaumana Street.
The historical building has inherited the name of a famous Latvian writer Rudolfs Blaumanis, who rented apartments in several buildings on this street (the street was named after him later), also next door at Blaumana Street 8. "If the building was so attractive then as it is now, Blaumanis would definitely choose it as his place of residence," Aigars Strods jokes.
Blaumaņa residence is located in the close centre, right in the middle of the so called psychological square surrounded by Caka Street, Bruninieku Street, Valdemara Street and the Old Riga. It is a place, from where you can reach anything by foot, and the midtown at the other side of Valdemara Street is much more expensive. If you want to live in the heart of Riga, it is good reason to choose Blaumaņa residence as your place of residence, which not only has historical charm, but also all the qualities inherent to a modern place of residence.
You should have noticed that Riga has become remarkably more beautiful in recent years. This is due to the wish of developers to renovate old buildings, and active building façade restoration works promoted by co-funding from the European Union and support instruments of the Riga City Council. This makes Blaumana Street the true gem of the Riga centre.
More information about the new development Blaumaņa residence.